For those of you holding our NFC-enabled 3D-printed cryptocoin simulacra 'in the wild,' we would like to give you a product update: your custom-printed coins are all WATERPROOF!*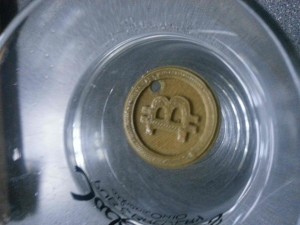 We recently decided to test out our cryptocoin simulacra to see how waterproof they really were. The results? Not only are your coins waterproof, but they also FLOAT!! The printing process traps small pockets of air into the coin, which allows it to float! After giving it a short bath (with dunking), the NFC tag inside didn't have any functional (read/write) problems at all.
For a while, we were confused why the NFC stickers we embed into your 3D prints were not considered 'waterproof,' while other NFC tags were. What makes one of these tags waterproof? It turns out that it's all in the plastic coating around the tag. This coating prevents the device antenna from becoming deformed or otherwise breaking when the tag gets soggy. In that sense, embedding the tags into our 3D prints might be considered it's own kind of waterproofing.
*We will be conducting a similar test of longer duration soon, but thought that this information was worth passing along. That being said, anyone who has already written a private key to their tag should continue to exercise all due caution. You wouldn't dunk your laminated laptop into a bathtub, would you?